UNBELIEVABLE PROFESSIONAL QUALITY DIRECT-TO-DISK STUDIO FOR A FRACTION OF THE COST.
While Home Studio Pro 64 is designed primarily for the home musician, it is an excellent solution for multimedia developers, broadcasters, producers, website designers, and more.

Real time stereo Direct-to-Disk digital audio studio 8 wave tracks + 64 MIDI tracks (no CPU usage). 16 bits, 4 to 44.1 kHz sampling CD audio sound quality.
64-Voice GM/GS wavetable hardware synthesis.
High quality samplers of 4 Mb RAM on board 425 real musical instruments, 128 General MIDI sounds. 97 instrument variations, 200 drum sounds divided into 16 drum sets.
DSP (Digital Signal Processor): Dream 5O MIPS: no CPU usage.
Interactive Surround on 2 or 4 speakers.
Various special effects customizable on 2 or 4 speakers in real time: reverb and chorus on MIDI and waves, echo and reverb on inputs.
Real time 4-band paragraphic equalizer on all sound sources.
Enhanced full duplex: *Better than Full Duplex* Simultaneous 2-way playback and recording or conversation over the Internet, at different sampling rates: 8 or 16 bits, mono or stereo, 22 or 44.1 kHz.
Inputs: microphone, stereo line in, MIDI interface.
2 separate stereo outputs to connect 4 speakers: 1 stereo line out (low noise) + 1 Surround output.
1 pre-amplified output (ideal with headphones).
MIDI cable and hands free microphone included.
Measured Signal-to-Noise Ratio: >91 dB A (A weighted at -3 dB).

Memory expandable to 20 Mb RAM with standard RAM SIMM (< 60 ns) to download new sound banks.
Connectable with Yamaha DB50XG type wavetable daughterboard to obtain 96 voices of polyphony, 32 multitimbral channels and benefit from more professional sounds (2 independent MIDI ports)

Digital Daughterboard to set up a digital stereo S/PDIF 44,1 kHz Input/Output.
Stereo analog RCA input/output jacks with gold-plated connectors. 18 bits Burrbrown DAC.
You can transfer your musical creations in CD quality Direct to DAT (Digital Audio Tape).
Excellent measured Signal-to-Noise Ratio: >91 dB A (A weighted at -3 dB).
Experience the only true 3D Positional Sound on 4 speakers: the new standard Maxi Sound 3D Positional Audio for your games running the function and your musical applications. Using the Microsoft DirectSound 3D APIs, up to 48 sounds can be positioned on 3 dimensions simultaneously with no CPU usage (under Direct X 5.0). You can finally hear the enemy approaching from behind, the helicopter overhead, the race car speeding by on your left and monsters springing up on every side and furthermore or set up a home orchestra.

MAXI FX: Exclusive original software that operates Dream 50 MIPS DSP (Digital Signal Processor). Customized Interactive Surround on 2 or 4 speakers mono or stereo, real-time equalization and special effects both on MIDI and wave files, in music applications or in all games. With MAXI FX, optimize your sound for any application on your desktop and save up to 800 presets.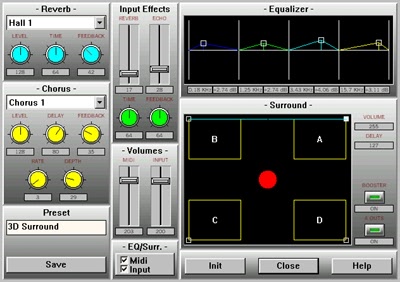 MAXI BANK DOWNLOADER - Software to download new sound banks in MAXI Sound 64 Home Studio Pro's memory so as to optimize your MIDI creations or games sound. This software can be used together with Quartz Audio Master 16, Cakewalk or any other MIDI sequencer.
MAXI MEMORY 64 - Real multi-layered* sampler divided into 2 interfaces:
| | |
| --- | --- |
| Maxi Instrument Editor | Maxi Instrument Downloader |
| It's sound sample editing tool that allows you to create and edit your own high quality multi-layer MIDI instruments or sounds from any wave file. Define pitch, filtering and amplitude. | Organize your instruments in patches and variations. Create your own high quality sound bank creations, load them into Home Studio Pro 64's memory, and use them in any MIDI music application or game, or with any MIDI sequencer. |
* Multi-layer: The ability to use more than one sample at once per note.
Quartz Audio Master 16 - The real-Time 16 Track DIRECT TO DISK Digital Audio and 64 tracks MIDI Recording Program.
MIDI/Audio mixing console manager with real time level and pan controls.
SMPTE synchro (master/slave) with MC, MTC, SPP in record and playback.
Change reverb, echo, delay, chorus and pitch in real time on Inputs.
Automation of level, panoramics and effects.
Real-time non-destructive mixing-SMPTE synchro.
Real-time chorus and reverb effects per track.
GM/GS controllers and graphic editors. SysEx manager.
Grid, score and events windows. Score printing.
OLE link with editing software: Wavelab, Sound Forge XG compatible graphic interface.
SOUND IMPRESSION - The Intuitive sound recording and production software program. Features cool stereo rack interface, integrated mixing panel, wave file recorder and player, MIDI player and CD Audio player: load up to 48 MIDI files, mix down wave files with special effects.
CAKEWALK EXPRESS - Multi-track MIDI recording studio: record, edit and play music on your sound card or external MIDI instrument. Play the piano on your computer with Virtual Piano, the on screen piano.
INTERNET PHONE - Speak to people all over the world for the price of a local phone call, via the Internet, (with a modem, not supplied).
SOUND BANKS LIBRARIES - Additional sound libraries from Groove Style included.

General Midi.
General Standard.
Roland MPU-401 mode UART.
DLS (DownLoadable Sounds).
DirectSound and DirectSound 3D hardware accelerator (under Direct X 5.0).
Maxi Sound 3D Positional.
Windows Plug and Play.
MS DOS version 5.0 and higher.
Sound Blaster.
Sound Blaster Pro.
ESS Audio Drive.
Enhanced full duplex.
CubaseVST.
Logic Audio.
Cakewalk Audio Pro.
100% compatible with all games.
Compatible with any PC system (lntel, AMD and Cyrix processors).

Pentium 90 MHz or better.
16 bits slot.
8 Mb RAM.
Microsoft Windows 3.1x, 95, 98 or NT.
3.5 Mb per second data transfer speed for 16 track Direct-to-Disk.
CD-ROM drive.
---
Comments and questions send to this e-mail address

This page is last updated: 19 April, 1999

Copyright © 1999 MegaTrade. All Rights Reserved.